Hirschfelds of Hatton Garden London Jewellers since 1875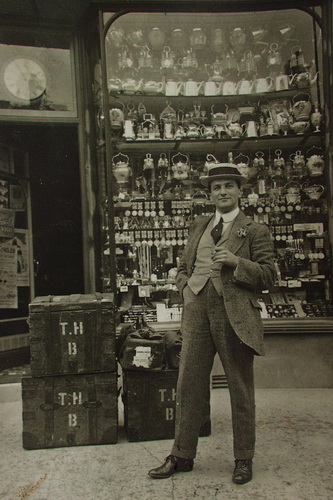 Alexander Hirschfeld Snr 1920s
Hirschfelds are one the oldest established jewellers in the world. Specialising in fine antique jewellery and beautiful antique engagement rings London. Rare and high quality items of Antique jewels, Vintage jewellery and Estate Jewellery. Exclusive jewellery from antique to the contemporary. Hatton Garden jewellers. Precious jewelery since the 19th Century.

We are a family wholesale jewellers, antique jewellers and diamond dealers. Hirschfelds have had strong roots in the jewellery and diamond trade in Hatton Garden London UK for more than 138 years with an exquisite collection of fine jewellery.
Hirschfelds Ltd London Jewellers Hatton Garden.
Precious jewels since 1875

Established in Clerkenwell 1875, Hirschfelds have constantly strived to maintain traditions of service and reliability that have distinguished us throughout that time. Antique jewellery London, Wholesale jewellery London, Fine jewellery, Antique jewellery dealers, Jewelry manufacturers & exquisite jewellery making. Jewelry repairs London.
London jewellery repair and jewellery restoration ring sizing and ring resizing London since the nineteenth century.
Our extensive London jewellery stock includes a wide range certificated diamonds and diamond rings. We specialise in loose diamonds in a range of sizes from ½ Carat to Ten carats, and offer a wide selection of diamonds in all categories. We also stock a wide variety of diamonds of different clarity and colour, ranging from the very best quality to more "commercial" and showy diamonds.
Our London jewelry collection includes an eclectic collection of Antique jewellery, Vintage Jewellery, Vintage diamond rings, Antique diamond rings Second-hand Jewellery, Art Deco Jewellery and period Jewels. We have Victorian rings including Victorian diamond solitaires, Edwardian diamond rings, Antique engagement rings London.
Hirschfekls 1930s catalogue of Art deco brooches and Pendants

Please click here: Second hand jewellery and rings to view our
Antique jewellery and Vintage Jewels..
We are The Antique jeweller London Hatton Garden antique jewellery.
There is old jewellery, there is estate jewellery & secondhand jewellery. We handle jewels with history and provenance. This is heritage jewellery that makes a better investment than ordinary Vintage jewellery..
Big bold 1950's jewellery and 1960's jewellery pieces are back in vogue right now.
Our 1935 Diamond Ring Calalogue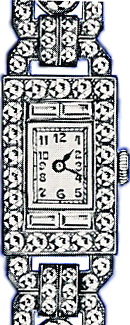 Click here to view our original collection
Art deco watches and diamond cocktail watches
Hand made in Platinum
in our Hatton Garden jewellery workshop in the 1930s
Every period jewel in our antique jewellery collection has it own story to tell.
Hirschfelds Suite26 88-90 Hatton Garden EC1N 8PN 020 7405 1536